There are many types and brands of barcode printers available in the market. Selecting the required model is a difficult task.
The below points will explain and help you how to choose a barcode printer.
First, Access your printing requirement and select the model accordingly.
There are mainly 4 types of Barcode Printers
They are easy and compact to use and ideal for small enterprises. If the budget is limited and limited with space too, then Desktop barcode printers are ideal to go for. These machines are compact and neatly fit on any counter, desk or POS station. Recommended using these desktop barcode printers when we need to print fewer number labels daily (100 or less).
Printing very large quantities of labels is made easy with Industrial barcode printers. A wider range of label sizes, from very large to very small can be printed using Industrial barcode printers. Both paper and synthetic labels can be printed on this. Print heads of these machines come with a higher resolution which enables the printing of detailed graphics or tiny barcodes and fonts. These devices are developed for tougher environments and for harshest conditions. They are used mainly in large enterprises, manufacturing & warehouses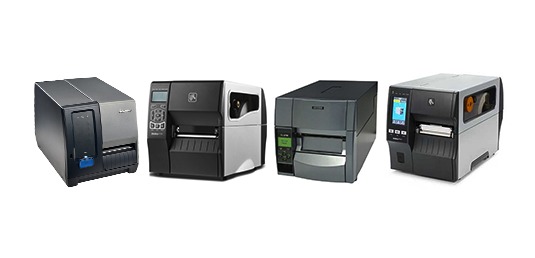 Mobile barcode printers are intended for the worker on the go or out in the field and are often used for quick labelling purposes. Portable barcode printers can increase efficiency and worker productivity by helping you print barcode labels on demand wherever they are needed. No cables or wires are attached to these devices. These devices can be relocated easily. Communications are through RF or Bluetooth technology, in addition to standard cable connectivity. Print widths range between 2 and 4 inches. They can print barcode labels on assembly lines, shipping and receiving docks, patient bedsides, retail checkouts, offices and anywhere the information is needed. Each and every type of barcode printer has specific advantages. So, you should assess your barcode printing requirements before you make any purchasing decision
These are printers specially designed for hospitality and healthcare. These are part of the ticketing system and are used to print wristbands for events. In healthcare, wristband printers are used as part of patient identification bands.
Barcode Printers are divided by printed methods
Direct Thermal – The printer head print directly on the thermal paper roll. Ideal for labels with a short life (product pricing, shipping labels) as these labels get tampered with by sunlight, moisture etc
Thermal Transfer – Here it uses a thermal print head to transfer ink from a special carbon ribbon to a printing roll. The main advantage of this printer is, that it can print both thermal transfer and direct thermal labels.
Print Resolution – Barcode Printers come in different resolutions in 203 dpi, 300 dpi and 600 dpi which need to be selected accordingly to your purpose of usage.
Print volume – The decision of choosing a barcode printer also depends on the volume of labels to print in a day
For more information visit www.posmea.com/ae, the exclusive Authorised Distributor of Barcode Printers in UAE. Zebra Premium Partner